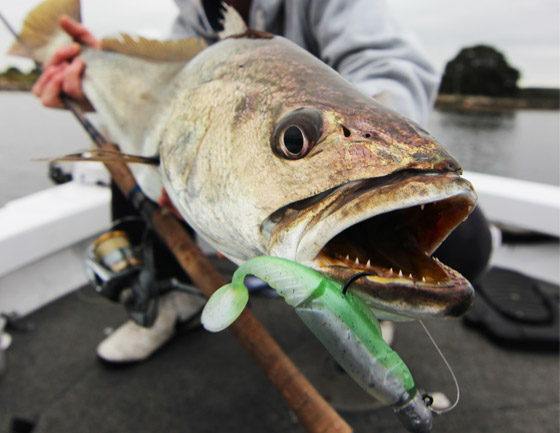 Fishtail Primary Target Species
Designed specifically for targeting Mulloway, but great for big bottom dwelling ambush predators like Flathead, Cod and Barramundi

Other Proven Fishtail target Species
The Fishtail is a proven magnet for Snapper, Mackerel, King Fish, Trevally and Mangrove Jack.
How and Where to use the Fishtail
The Paddle Tail is and inshore special and can fished anywhere that holds fish. A key feature of the Fishtail is that it was designed with a broad body profile and large paddle style tail, to give a wide action. This is brilliant for reflecting light when rolled under bridge lighting at night and at dawn and dusk when light levels are really low.

FISHTAIL Tips
Target river and estuary Mulloway at night using the ambient light from civic structures such as wharfs, bridges and break walls especially around the tide changes
Use the bigger Fishtails (105mm,130mm) when targeting big fish, particularly when you're hunting huge Flathead
When hunting for record book Flathead, try a smaller Fishtail like the 80mm to assess if there are Flathead in the area. If you get a smaller Flatty, change up to the 130mm. There are monster Lizards there, you must persist.
The Fishtail is a Mulloway special. If you expect your location holds Jew, drop a Fishtail to the bottom and start with a
slow to medium retrieve with a few hops and pauses. Be ready to strike at even the slightest inquiry as jewfish are
known for softly tapping the lure.